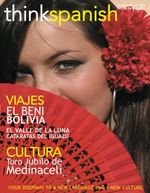 Just in time for the holidays, AmeriSpan and Think Language have teamed up for a very special offer: Save $80 off one year of Think Spanish or save $70 off one year of Think French. As an extra bonus, each subscription includes access to a full year of back issues.
Why do we love Think Spanish and Think French?
With a subscription to Think Spanish or Think French, you receive 12 months of continuous learning with new content every month:
A complete learning package of monthly articles, audio, lessons and more!
A proven method to increase Spanish or French fluency naturally and effectively, at home and at your own pace!
New and engaging articles every month to increase fluency and grammar.
For students of all ages and levels, Spanish/French for Travelers, Business or Workplace Spanish/French, and of course Spanish/French Teachers … there is truly something for everyone!
Authentic audio files accompany each article, read aloud by native Spanish speakers designed to improve listening and pronunciation. Listen to the audio online or save to your iPod or CD player.
Monthly "Repeat After Me" exercises with audio, grammar lessons from an award-winning teacher, vocabulary flashcards, and listening and reading comprehension quizzes.
If you are interested, act now as this special is only valid until January 1st! Go to Think Spanish or Think French. 
Stocking Stuffer Alert! More great gifts for language travelers:
International Student Identity Cards (ISIC)
Worldwide Cell Phones & SIM Cards: Mobal 
Europe Cell Phones & SIM Cards: Eurobuzz