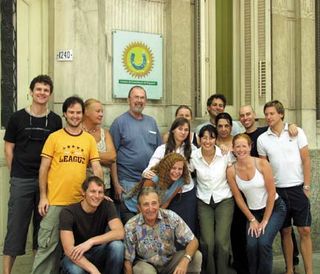 Meet Margo Kros, Owner and Director of AmeriSpan's partner school in Montevideo, Uruguay:
What is your background?
I'm from the Netherlands, 43 years old, married to a Uruguayan and we have two daughters. We moved to Uruguay 3 years ago.
Do you travel abroad often?
I used to, but not right now
Have you studied abroad?
After finishing my studies (administration) in Holland, I have done many courses in tourism in different countries. Working with languages and in tourism has always been interesting for me and I still enjoy it very much.

Which languages do you speak or have studied?
I speak Dutch, English, Spanish, German, French and I'm learning Portuguese.
How and why did you get into the Study Abroad market?
I was working in Spain as a tour guide when the company decided to send me to another country. I refused (as I had just met my current Uruguayan husband) and had to look for something else. I applied for a job at a language school in Malaga where I had been working for a few years, then moved to Nerja where I also worked at a language school for a few years and after giving birth to our first daughter, my husband and I decided to start our own language school in a village called La Herradura in Southern Spain. That's where the name of the school comes from.
When did you start/join your organization?
We started the school in Spain in 1997 and the school in Uruguay in 2002.
What is your job or function at the organization?
I'm the owner / director
What do you enjoy the most about your job?
The variety and the contact with the students. It is wonderful to observe how they enjoy themselves while learning or improving a new language. It also is very nice to see how students of different nationalities and ages get on well together.
Was there a person, group of people or organization that was instrumental in your success?
No, I don't  think so.  The most important for me is the personal attention towards the students, in offering them your time and listen to their suggestions, or complaints helps us to keep improving. Good teachers, accommodation and a variety of activities and excursions are also essential.
Tell us one of your biggest challenges in starting your organization.
Opening a business in another country, first in Spain and afterwards in Uruguay has been and still is a challenge. Different rules, "bureaucracy" and the slow work rhythm can make working in Uruguay very difficult. As long as you explain this to the students so they understand, it doesn't cause any problem though.
Tell us one of your biggest mistakes in your job, studying/teaching a language and/or traveling abroad.
The webmaster, who worked with us for some years, couldn't continue and we didn't really bother to find a substitute. When we realized, we employed a web designer who did a great job and the page looked wonderful, but the SEO job wasn't done….no more explanations are necessary…
This was a good lesson!
How did you and AmeriSpan begin working together?
I received a phone call from one of your assistants, a Dutch lady and this was the start of a very good cooperation. It is a pleasure working with you.
Can you tell us about your schools philosophy, specialty and/or why you think it is special?
The personal contact with the students, giving good and reliable information and always be there when they need you.
Any thing else? Perhaps some advice to potential participants, teachers, school owners or travelers to your country or city.
-Potential students: give us the feed back in time, if there is anything you don't like about the program, let us know, so we can improve and make changes.
-Teachers: if you notice that a student should not be in the group he/she is, you should inform the administration, or talk with the student directly.
-School owners: the opinion of every single student will help you to keep your business going and have satisfied students who will recommend your school
Check out AmeriSpan's school in Montevideo, Uruguay