A wonderful, feature article on MSNBC.com highlights learning languages abroad and educational vacations for travelers of all ages.  For the 2nd time in 60 days, MSNBC came to AmeriSpan Study Abroad as key source for a featured article in their travel section.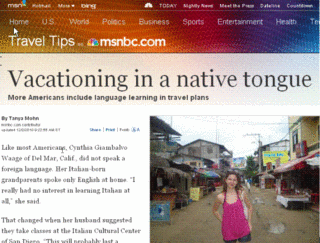 The first article featured Dawn Soriano, 40, a high school Spanish teacher from St. Louis, Mo. who is studying with AmeriSpan in Europe.
This article, "Vacationing in a native tongue", interviews Dajana Guja, a repeat AmeriSpan language traveler, as well as AmeriSpan's co-founder and other industry experts.
The article does a great job laying out some of the many reasons why people of all ages are increasingly going abroad to learn languages. In addition, the author underscored a variety of different learning vacations including language immersion programs, summer camps for teenagers, French law classes, and professional internships.