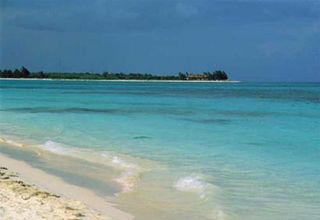 By Alisa W., guest blogger studying Spanish in Playa del Carmen, Mexico 
Today marks the end of my second week here in Playa.  These two weeks have gone by very fast, and I can't believe that I only have two weeks left.  Today, my friends and I took a colectivo (basically, a taxi van that takes 10 or 15 people to places in one general direction) for only 30 pesos/person (about $3 US dollars)  to Akumal. 

Akumal is where many sea turtles come to lay their eggs during their season (April-November).  There were a lot more locals here, and the beach was much smaller.  We rented some snorkeling equipment for 140 pesos ($12 US dollars) each, and went out to swim.  Aside from watching my friend try to walk from the beach to the water with his flippers, which may be one of the funniest things I have ever seen, I got to see a few sea turtles in the water!  It was very cool to see! 
After that we walked to a restaurant and got some food.  The locals in Akumal are all very, very friendly, and every day I am impressed by the kindness of the Mexican people!  I wish people were more like they are here everywhere else.  My Spanish is coming along very well, and I'm getting better at answering people when they talk to me.  Unfortunately, 4 weeks isn't enough to learn it extremely well, but it is definitely a very good start, and I think that if I continue my studies when I get home I will be able to learn it fluently in a few months. 
I plan to spend my last couple of weeks on the beach working on my tan, while enjoying a few cervezas!  One of the best things I have found in Mexico is the ability to bargain on things.  They tell you a price, and you tell them what you want to pay, and they meet you somewhere in the middle. Although it feels strange at first, it can save you a lot of money in the long run!  If you are considering studying abroad in Mexico, I highly recommend Playa del Carmen.  It is close to many major attractions in Mexico, has beautiful beaches, many options for shopping, and food with a more local feeling than you might get in some other places in Mexico.  Most locals will speak Spanish to you, so unless you ask them to speak English, you will get many opportunities to practice your Spanish!
Find out more about AmeriSpan's Spanish school in Playa del Carmen
See all Mexico Spanish schools
Read all of Alisa's blogs from Playa del Carmen