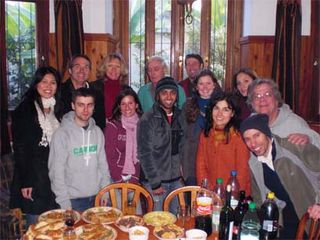 Last month you met this school's Owner and Director, Margo Kros.  Today, meet Ellie Brigwood, Office Administrator at AmeriSpan's partner school in Montevideo, Uruguay:
What is your name?
Ellie Bridgwood
What is your background?
I'm 26 and I'm from England. I have been living in Uruguay for nearly two years. I'm a graduate of English language and literature, and I have worked as an English teacher in England and in Uruguay.

Do you travel abroad often?
Living in another country is a lot like travelling abroad! I have been lucky enough to visit lots of different parts of Uruguay in my time here, as well as parts of neighboring Argentina.
Have you studied abroad?
Yes, I learned Spanish at language schools in Argentina and Uruguay.
Which languages do you speak or have studied?
I speak English and Spanish, and now I'm starting to learn Portuguese.
When did you start/join your organization?
I started as a student, when I took some Spanish classes at the school in Montevideo in 2009. Then I was offered the job of school administrator and I have been working here for about a year.
What is your job or function at the organization?
My main role is being a constant point of contact for current and potential students. I'm there when people have questions or doubts about the Spanish courses, accommodation, public transport, or free-time activities. I also take care of the day-to-day administration, preparing bills, updating our website and keeping students informed of their timetables.
What do you enjoy the most about your job?
I enjoy meeting people from around the world, because each one has different reasons for coming to this little country and for learning Spanish. I also love Uruguay, so I enjoy having the opportunity to help our students enjoy their time in this beautiful and peaceful country.
Tell us one of your biggest mistakes in your job, studying/teaching a language and/or traveling abroad?
Before I came here, I planned to travel around lots of South American countries, but I liked Argentina and Uruguay so much that I ended up staying here! It's not really a mistake, because I feel I've discovered a great corner of the world, but I still have a long list of countries I hope to have the chance to visit one day.
Can you tell us about your school's philosophy, specialty and/or why you think it is special?
One of the reasons that this school is so special is its location: we're in a capital city, with great culture and nightlife, but we're in a residential neighbourhood close to the centre, so it's safe and peaceful with a real sense of community. We are also just a short walk from the beach, which is perfect for a quick swim after work or class.
Any thing else?
Perhaps some advice to potential participants, teachers, school owners or travelers to your country or city: I would advise potential participants to remember that you'll learn a lot of Spanish in the classroom, but you learn plenty out of class too, just by being in the country! So get out there, chat to local people, join dance or sports classes, talk to vendors in the street markets… anything, just to take advantage of being among chilled-out and welcoming people who will appreciate your efforts to speak their language and get to know their country. Learning a language is an investment, as many employers value it very highly, but I think we learn best when we're relaxed and having fun.
Check out AmeriSpan's school in Montevideo, Uruguay