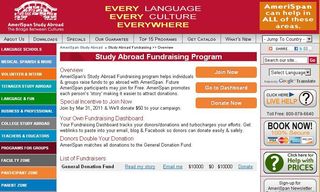 Are you fundraising to pay for your Study Abroad program? AmeriSpan's Study Abroad Fundraising program will make it easier. AmeriSpan will promote "your story" to our 35,000 past participants and other study abroad enthusiasts. We will even donate $50 to your campaign when you join the program by March 31, 2011.
Are you a potential donor but can't decide who to donate to?  Then donate to the General Donation Fund.  AmeriSpan will match your donation and distribute these funds to participants based on financial needs and their fundraising efforts.


Membership is free and you'll receive links to paste into emails, blogs or facebook so friends and family can easily donate directly to your AmeriSpan program. You will also gain access to your Fundraising Dashboard which tracks your donations by donor, amount and date.