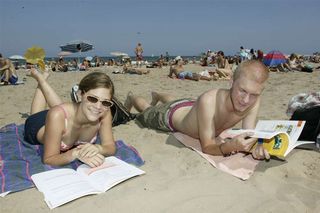 Meet Maemi Casanas Okumura, a student at AmeriSpan's Spanish school in Valencia.

 What is your background?
I am 21 years old and am studying medicine in Salvador, Bahia, Brazil. 
Do you travel abroad often?
I travel abroad at least once a year. Since 2005,  I have been to the US 3 times, once to Canada, and I'm currently on my third trip to Europe.

Have you studied abroad?
I've studied abroad for a month in Vancouver, Canada. 
Which languages do you speak or have studied?
I speak Portuguese, have studied English since I was 8 years old, and have been studying Spanish since 2010. 
How and why did you decide to Study Abroad?
There are several agencies in my town that promote study abroad trips. 
Anything else?
A great thing about the program here is that we have the ability to get to know more about Spanish culture. The "normal" classes are fun, we learn grammar while talking a lot. And at the culture classes, we can relax while talking, watching Spanish movies, reading Spanish poems, etc.

Discover more about AmeriSpan's Spanish school in Valencia