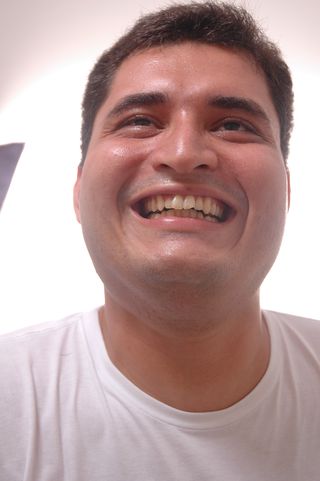 Meet Pedro Lucena, School Coordinator of AmeriSpan's Portuguese school in Maceio, Brazil.
 What is your background?
I am 33 years old. I am from Brazil and live in a beautiful city called Maceio. When I was 18 I started attending Law School and spent 5 years there until I graduated, but Law was never my "thing", so as I was crazy about languages I became an English teacher. After some years teaching English, I started teaching Portuguese to foreigners. Love at first sight!
Do you travel abroad often?
I've never been abroad, but would love to someday.
Have you studied abroad?
No, I haven't.

Which languages do you speak or have studied?
My mother language is Portuguese, but I also speak Spanish and English.  
How and why did you get into the Study Abroad market?
As I mentioned, I was teaching English and then started with Portuguese classes, basically because I have a friend who used to work for the school and he asked me if I would like to teach Portuguese classes.
When did you start/join your organization?
I started in 2004 as a teacher and Coordinator of our Volunteer work program.
What is your job or function at the organization?
I am the Coordinator of the school in Maceio, and I also teach when it is necessary.
What do you enjoy the most about your job?
I enjoy knowing different people from all over the world and also the fact that we don't have a routine as we have new students every week.
Was there a person, group of people or organization that were instrumental in your success?
People, my family to be more precise.
Can you tell us about your schools philosophy, specialty and/or why you think it is special?
The most special thing about our school is that we try to make students feel comfortable while learning the language. The atmosphere at school is relaxing and very friendly. We think that as the student feels at ease his/her capability to learn increases considerably.
Anything else?
Yes, I would like to say something to the ones who are coming to know Brazil and its language. I would say come with your hearts opened, many people listen to very crazy and terrible stories about my country and I have known many people to whom these stories have been told and realized the things were totally different when they arrived here. We know Brazil has its problems, but it also has a lot to show and to be discovered. Come visit us!
Learn more about AmeriSpan's Portuguese school in Maceio