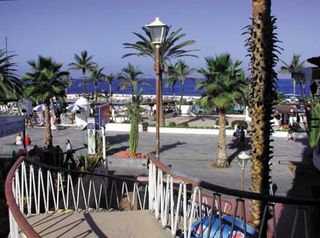 Meet Salomé Torres González, a teacher and Head of Studies (Coordinator) at AmeriSpan's Spanish School in Tenerife.
What is your background?
I am 45 years old, married, have two daughters and two degrees (Latin and Greek and Spanish Literature), twenty years of experience, over eight-hundred hours of training, no car, and many friends!
Do you travel abroad often?
Not as much as I would like.  Once every two years (more or less).


Have you studied abroad?
Yes.  In London in 1999 and in Paris in 1994.
Which languages do you speak or have studied?
Spanish, French, English (I can speak some German and modern Greek)
How and why did you get into the Study Abroad market?
It was an accident. I met a boy at a party..
When did you start/join your organization?
In 1994
What is your job or function at the organization?
Both teacher and Head of Studies (Coordinator).
What do you enjoy the most about your job?
Learning. I can learn every day about people, communication, culture, and about how the brain works to learn.
Was a person, group of people or organization that were instrumental in your success?
My success? Thanks..a person: Caridad Santana and Marianne de Jong. A group: my teacher and hundreds of students.
Tell us one of your biggest challenges in starting your organization?
It was difficult to explain to Canarians that Americans want to learn our language and culture, and to make Canarians accept that Tenerife is another suitable destination to learn Spanish (in addition to main destinations like Madrid and Barcelona).
Tell us one of your biggest mistakes in your job, studying/teaching a language and/or traveling abroad?
I can't remember – there are new challenges every day ("gay" vs. "guy", for example..). This week I placed a student in the wrong group because of his name (it sounded female to me).
Can you tell us about your schools philosophy, specialty and/or why you think it is special?
It is small and familiar. Our philosophy is that then you learn, you reach, and when you reach, you learn. Is it chaotic? Enjoy the chaos and smile for pictures.
Any thing else?
Canarian people put human qualities before material things enough to make our staff special. We have no palaces or monuments: only homes and an incredible environment with warm people.
Learn more about AmeriSpan's Spanish School in Tenerife