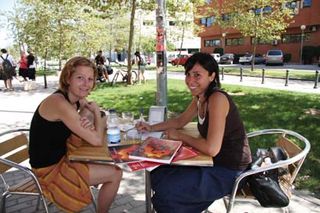 Meet Pilar Paredes, Director of AmeriSpan's Spanish School in Valencia, Spain.

What is your background?
I have a university degree in Education Sciences and Philosphy.
Do you travel abroad often?
No
Have you studied abroad?
Yes

Which languages do you speak or have studied?
English, French, and Spanish
How and why did you get into the Study Abroad market?
Because I liked teaching Spanish!
When did you start/join your organization?
2006
What is your job or function at the organization?
Director of the Spanish school in Valencia
What do you enjoy the most about your job?
Meeting people
Tell us one of your biggest challenges in starting your organization.
Mixing culture and knowledge
Can you tell us about your school's philosophy, specialty and/or why you think it is special?
We are very open and we never say no to new possibilities!
Anything else?
Valencia is the third largest city in Spain, perfect for students seeking beautiful weather and a low cost of living. In Valencia, you get the advanatges of a town and a city, because the distances are not long and communication is very good!
Learn more about AmeriSpan's Spanish school in Valencia, Spain