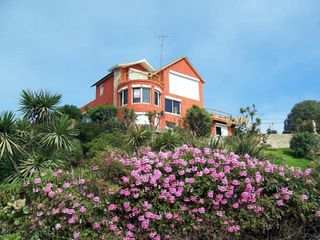 By Jonathon L., guest blogger studying Spanish and skiing in Santiago, Chile
Exactly one week after the grand feast with the extended Chilean family, I went and enjoyed a "bluebird" (clear skies, sunny weather) day in Valley Nevado and made my way to and from the mountain in a timely fashion, because the roads work wonders when they aren't covered in snow and ice.  And when I returned I took part in what Santiagans have dubbed ¡Miércoles Po!  Basically, every Wednesday (Miércoles) all the foreigners (Me!) make their way out to pubs, bars and discos to party the night away like its a thursday at UCLA (or in any other respectable college town).  So after a day of snowboarding, I prepartied (Hacer la Previa) at the student house (CASA LOCA) as we watched Lucky Number Seven (In English, BOO!). 

As that came to a close at around 11:30, we hopped in a cab to meet up with the rest of the language school peeps to dance the night away in Mita Urbano, a clublike bar that had expensive drinks, crowded dance floors, and high energy music (Regatone/Chilean Top 40); basically, I was in heaven.  And with the energy I had left in my body (cuerpo) I did what I do best….dance like nobody's watching…but people were watching…and one of the kids from Australia, who had studied abroad in the states was stoked to find someone to do what she had titled "CRAZYDANCE" (I consider more to be a hybrid artform of expression mixing the best facets of the fistpump, hyphy movement, jerking, and the limited other dance moves that I feel comfortable enough to try and do in public to show the world how excited I am to be alive).  So basically, I "crazydanced" for a while…and then I tried to order a drink, in Spanish…and succeeded…but it was the worst Gin and Tonic (sprite) with Lime (lemon) that has touched my lips this year…mostly because they make their drinks strong…but i was really just thirsty but not ready to ask the barman for ANOTHER "Ague de llave" (TAP Water). 
I put the drink down and decided it was time to go home to and rest up for class the next day, after all…it was a school night, and I had been awake since 6:40am.  So,  I put down my drink, and left without saying my goodbyes  and I was so proud as I called a cab and was able to give him enough information to get me within two blocks of my home.  (Yay Spanish! Boo one way streets that mean I was going to walk the last two blocks).  But apparently most people took an early night, and headed home around 2ish…except the Brazilians who rocked until the wee hours of 4am..
And yes, the next day I did make it to school, on time, unlike nearly 1/3 of the other students…but it was a nice calm and quiet day as those of us who were alive (barely) and in class worked hard to maintain consciousness and stability in our heads as we dramatically improved upon our Spanish capabilities.
Coming Soon: Yesterday's hike to the top of Cerro San Cristabal, tonights terremotos in celebration of Morgan's despiertido (One of my sisters is moving back to the states? to finish law school or something lame like that..) and tomorrow's smaller hike to see the top of Santa Lucia, and whatever adventures follow in between!
Find out more about Spanish and Skiing in Santiago 
See Spanish school in Santiago
Read all of Jonathon's blogs from Santiago