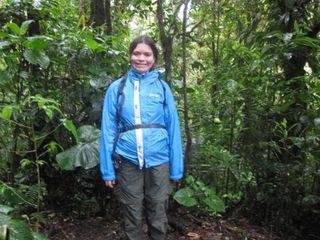 By Jennie M., guest blogger studying Spanish in Heredia, Costa Rica
I have always wanted to go to a tropical rainforest.  So when the opportunity came to go to the Cloud Forest – El Bosque Nuboso – in Monteverde for my first weekend in Costa Rica, I jumped at the chance.
We left on Friday afternoon.  The first stop on our journey was the town of Fortuna, near Volcan Arenal, an active volcano.  Lucky viewers may see the lava at night, but luck was not on our side.  Clouds obscured our view of the mountain.  We did, however, enjoy the aguas calientes at Baldi Hot Springs.

The next morning, The first leg of our journey was by boat across Lago Arenal.  Once we landed on the other side, we got into passenger vans and experienced the incredibly windy roads leading up to Monteverde. Luckily, I grew out of my childhood motion sickness or it would have been a very 
uncomfortable ride. I observed the very green countryside, full of trees, bushes and ferns. In this part of Costa Rica, it's still the rainy – green – season. The dry – high – season begins around December.
Finally, after an hour and a half, we arrived to the town of Monteverde. We had the afternoon and evening to get acquainted with the town. There are plenty of small tourist shops and restaurants. We 
browsed through them and discovered one where a local artist makes small glass figurines of local wildlife, such as hummingbirds (colibri), frogs (ranas), and butterflies (mariposas).  That afternoon, we got to see him work in person. We watched as he created a multicolored butterfly with glass and flame.
When night fell, we went on a night hike in hopes of seeing the animals of the night. While the wind and full moon prevented us from seeing much, we did see a tarantula and a group of coati (looks somewhat like a cross between an anteater and a raccoon).  The night hike tour was mostly in Spanish, so it was also a great opportunity to practice.
On Sunday, we headed at last to the Cloud Forest, first to the hummingbird garden and then to traverse the suspension bridges.  I could have spent hours watching the multicolored hummingbirds (colibri) drink nectar from the available feeders.  There were so many different types, and they eagerly zoomed in and out of the area.  While it rained for most of the time during our walk through the Cloud Forest, I still enjoyed being outside in nature.  The bridges are suspended above the forest canopy, and it was incredible to look down and imagine how many species of plants and animals there could be. 
All and all, it was an amazing experience.  If you choose to study Spanish in Costa Rica, I highly recommend a weekend trip to Monteverde. 
(Editor's note: Rainy season in the Monteverde area of Costa Rica typically occurs in June through the end of the year.)
Learn more about studying Spanish in Costa Rica
Read all of Jennie's blogs from Heredia