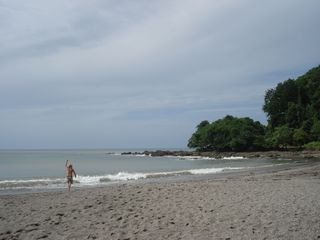 Kate S., '15 Minutes of Fame' Contest winner and current Great Travel Abroad participant, shares her most recent study abroad experience
I hate to toot my own horn, but I feel that I should update everyone on what I did with my scholarship from the 15 Minutes of Fame Contest. You know, prove that I didn't squander my winnings.
Well rest assured, I used every last penny on a return visit to Costa Rica. I could say that I wanted to see the monkeys and learn more

Spanish, and that' be true – but really I think I missed my familia tica. And there's nothing like going back to a place that holds so many fond memories and holds the potential for countless more. It was great to return to the school in Heredia. For those of you who have been there, I'm sure you can imagine the fun I had danging with instructor de baile Enrique or cooking with Janette (who also happens to be my host mom). If you've never been, I highly recommend it as your next adventure, especially if you're looking for great people, constant fun, and amazing trips.
I won't go on and on this time, suffice to say I had a blast and learned a ton as usual. Thanks again to Amerispan for the funding! I'll leave you now with a new picture (see above). That's not just some random guy on any old beach – that's our trip guide waving down a snorkel crew so we can check out Isla Tortuga (which surprisingly enough has more fish than turtles). He's just one of the great staff members that take care of you at the school and make sure you get the most out of your trip. That includes living it up in the relaxing and truly special atmosphere of Costa Rica – Pura vida!
Learn about our Great Travel Abroad Contest
Find out more about AmeriSpan's Costa Rica Spanish schools