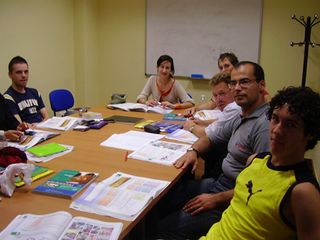 Meet Halina C., Fundraising participant who will study at AmeriSpan's Valencia Spanish school

What is your background?
I am 20 years old living in Santa Cruz, CA. I have a older brother who is 24. My mom was born and raised in Offenbach, Germany. I currently go to a local Community College called Cabrillo in Aptos, CA and am studying International Business with a Minor in Spanish, next year I will transfer to CSU Monterey Bay for my Bachelor's. 

Do you travel abroad often?
As much as I can! I haven't as much in the last 5 years, but I try to go to Europe almost every other year now. 2 years ago I went to study Italian in Naples, Italy and it was amazing.  
Have you studied abroad?
Only once before, when I was in Italy two years ago, and it was the most fun I had and the most amazing experience to be really immersed in all aspects of the culture.  
Which languages do you speak or have studied?
I speak English but have studied Italian and Spanish.
Tell us about one of your biggest challenges you've encountered abroad.
Probably the biggest challenge was first getting my barings down when I was in Naples. I come from a pretty small town in the Bay Area, and Naples was a bit overwhelming with 3 million people. I was a little intimidated at first, but eased right into everyday life after my first couple days of school.  
Why did you choose an AmeriSpan program?
I didn't want to go with my college again on a trip, I wanted to do something on my own so I decided to look around online. When I found AmeriSpan i got really excited because it looked like a really good school and had such great reviews.
Do you have any tips or advice for others planning to studying abroad?
Anybody you who wants to study abroad, all I have to say is to keep a open mind and try everything! To get the full experience you have to try everything at least once and do as the natives in the country you are in do!
Read Halina's Fundraising Story
Learn more about AmeriSpan's Fundraising Program or make a donation