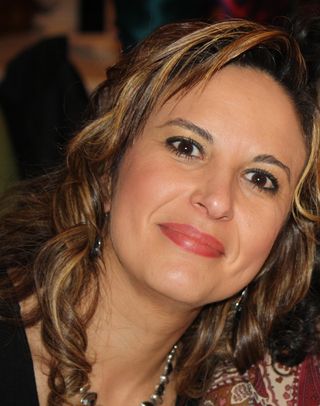 Meet Isabel Bueso, Academic Director of AmeriSpan's Salamanca Spanish school (Budget-friendly)
What is your background?
I have my degree in Spanish Philosophy from the University of Alcalá (Madrid,Spain) and from the University of Durham (United Kingdom) in 1995.  I strongly believe that my love for the language field began when I was named Graduate Student Tutor at Bowling Green State University (Ohio, U.S.A) in 1991. I also had different grants to work as an assistant at the International Relations Office in my University. When I started my degree at the University I had to work a lot!

After studying abroad, I decided I wanted to teach Spanish as a second language and I started my M.A. on this and a Ph. D. on Text Translation and Interpretation. While I was taking my M.A. courses I was selected to teach foreign students at the University of Alcalá as a part of my practices. It was a wonderful experience! 
After I finished my studies, everything happened really fast. I had my first jobs in private companies, my dissertation…and I started working for Enforex in 1997. Then, in 1998, the first book I published as an author came out. I got married in 2000, and we moved to a county in the west of Spain: Salamanca, so this was the opportunity to open a new Enforex in this city.  My son was born in 2001 and my daughter in 2003.
Do you travel abroad often? 
As much as I can!
Have you studied abroad?
Yes, at the University of Durham in the U.K.
Which languages do you speak or have you studied?
English
When did you start/join your organization?
At the very beginning, 1997 
What is your job or function at the organization?
I am the Academic Director in Enforex Salamanca
What do you enjoy the most about your job?
I am in charge of welcoming students on the first day at school so I know them all personally. The teachers and I do the test and begin their learning. I enjoy watching as they advance in level and are able every day to communicate more fluently.
Was a person, group of people or organization that were instrumental in your success?
My boss, the General Academic Director of all Enforex. She has always been my mentor, my friend and the best role model in my job.
Tell us one of your biggest mistakes in your job, studying/teaching a language and/or travelling abroad?
I think most of the mistakes I made earlier in this job were caused by cultural differences that we all have to learn every day.
Can you tell us about your schools philosophy, specialty and/or why you think it is special?
We are a very young and dynamic team of teachers. Our philosophy is to attend personally the student from the first day of school. Our contact is direct and we are very sensitive to their problems not only academics, but of everyday life, and they appreciate this very much.
Anything else you'd like to add?
The location of our school and our accommodations  in the center of the city makes sure everything is close at hand. Salamanca is a very safe city for its residents and all visitors are greeted with warmth and respect.
Salamanca was named a World Heritage city, and it is a city "created" to learn. You can enjoy its diverse culture, cuisine, landscapes  and cosmopolitan atmosphere.
Find out more about studying Spanish in Salamanca