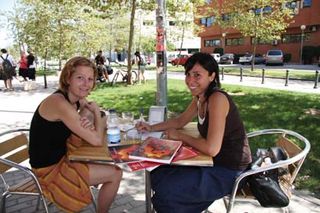 Meet María Sabas Elías, Academic Director of AmeriSpan's Valencia Spanish school

What is your background?
I'm 47 years old. I have a BA in Spanish Philology, I studied 3 years of Journalism, and I did the Pedagogical Aptitude Course (CAP). I worked for the Ministry of Defence for 11 years assisting in the recruitment of professional soldiers, having won the Best Worker medal in 1995. I'm originally from Bilbao but I moved to Valencia in 2003. I have an 11-year-old daughter.

Do you travel abroad often?
I travel abroad whenever I have the opportunity to.
Have you studied abroad?
I did a summer course at the Alliance Française of Paris to improve my translating competence of Literary Criticism texts. I also spent a month in the United Kingdom to improve my speaking skills in English.
Which languages do you speak or have you studied?
I'm a native speaker of Spanish. I have studied English, French, and classic Latin and Greek. I also speak Euskera.
How and why did you get into the Study Abroad market?
When I graduated, I decided to engage in teaching Spanish as a second language and that has been, and continues to be, my professional career.
When did you start/join your organization?
I started working at ENFOREX when ENFOREX VALENCIA was first created in 2005.
What is your job or function at the organization?
I'm the Academic Director of ENFOREX VALENCIA.

What do you enjoy the most about your job?
What I most enjoy is to coordinate my staff in order to promote teamwork with the other school departments, to personally address and assist students, to organize the groups and Fam trips and, above all, to develop any activity that leads to the improvement in the quality of the education staff.

Was a person, group of people or organization that were instrumental in your success?
Mª José Gelabert was my mentor at ENFOREX. She provided me with a model to be followed and at the same time gave me enough independence so I could find my own line of work, always respecting the standards and the philosophy of the organization. Her professionalism, knowledge, and teaching inspired me and most certainly helped me become the professional I am today and the improved the overall quality of our staff.

Tell us one of your biggest challenges in starting your organization?
One of the biggest challenges was to harmonize the work team promoting cooperation and to create such an environment that the staff would develop a bond with the organization, as to the point that they would always return.
Tell us one of your biggest mistakes in your job, studying/teaching a language and/or traveling abroad?
The first time I traveled abroad, I failed to understand the important connection between a local culture and the language they speak, prioritizing the knowledge of grammar and the technical aspects of a language over the cultural ones. I then learned how social rules are intertwined and a spoken language and that one can never really speak a language if they fail to see the world through the native speakers' eyes.
How did you and AmeriSpan begin working together?
AmeriSpan was born in 1993 as an agency affiliated with our schools.
Can you tell us about your schools philosophy, specialty and/or why you think it is special?
Our organization enjoys an outstanding Academic Direction working within the same network in all our schools, a wide range of academic courses that aim at communicative competence found within our general curriculum and the specific one of each school, and a credit system with foreign universities. What makes our organization special lies also in the fact that the our school's connections last beyond the time the students remain in the school and that, through social networks, ENFOREX remains patent in the student's lives.
Anything else? 
In order to travel abroad and successfully learn a language, we need to set out certain personal and specific goals. It's essential to keep an open mind, free of preconceived prejudices, to build up tolerance towards cultural diversity, and, of course, to hold certain intellectual curiosity. Regarding ENFOREX VALENCIA, I must stress the quality of our staff, their professionalism and specialization.
It's also worth mentioning the wide variety of specialized courses that we offer (tourism Spanish, digital photography, football, cooking, volunteering, flamenco) along with the courses offered at all our schools (DELE, business Spanish, Christmas Program and Internships). I must emphasize our teen program and the possibility of combining our Spanish classes with the extracurricular activities to discover our city, the culture (architecture, painting, sculpture, pottery), its folklore (the Fallas, the Tomatina, regional dances and outfits) as well as its unique beautiful and diverse natural surroundings (the Albufera, the Mediterranean beaches, its mountains, and its landscape). Furthermore, Valencia is the city of light in Spain and as such provides the tourist with a wide variety of daily and nightly possibilities.
Learn more about studying Spanish in Valencia