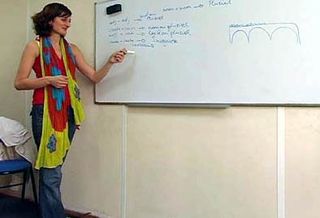 Meet Francois Pfeiffer, Managing Director of AmeriSpan's Paris French school
What is your background?
I'm 20 years old and have been for the last 35 years! I have degrees in Law, Management and Business. I'm also a photographer, music magazine journalist (Blues Magazine in France, Blues Matters in the UK, etc.) and a freelance consultant in management and web marketing.

Do you travel abroad often?
Yes, depending on the time of year and what I am doing.
Have you studied abroad?
No, but I spent my college years in an international college, the Lycée International de Saint Germain en Laye, with kids from the USA as well as from Spain, Germany, etc.
Which languages do you speak or have studied?
I speak French and German (bilingual) as well as English and Spanish.
How and why did you get into the Study Abroad market?
I was headhunted to manage a language school in the heart of France and then I bought the school in Paris.
When did you start/join your organization?
I joined the school staff in 1998.
What is your job or function at the organization?
Managing Director
What do you enjoy the most about your job?
Everything!  Throughout my career, I have always said that if you're not pleased with your job and if you don't enjoy your work then make a change. You spend most of your day and half of your life doing your job, so you better do what you feel is right for you and something that you love doing.
Was a person, group of people or organization instrumental in your success?
For a Managing Director, the staff is key to our success not only as a company but also in making them successful in their own right.
Tell us one of your biggest challenges in starting your organization.
Making a little school one of the leading and top quality schools in the French language business.
Tell us one of your biggest mistakes in your job, studying/teaching a language and/or traveling abroad.
My biggest mistake? None in my job, but one in my personal life: having stopped playing guitar when I was 21.
How did you and AmeriSpan begin working together?
I don't remember, but we have been working together for many years and we have an excellent partnership.
Can you tell us about your school's philosophy, specialty and/or why you think it is special?
The school's philosophy is based on one very simple point: quality. The quality of the premises, quality of information, quality of the courses, quality of accommodation, quality of the contact between us and our partners, quality of contact with all our + 5,000 students/clients, quality of all our services and all we do at the school.
Discover more about AmeriSpan's French in Paris school