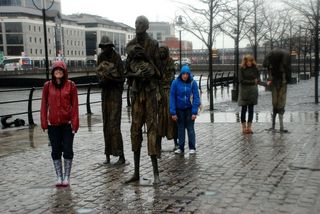 Audrey P., current Great Travel Abroad Contest participant, shares an exciting activity she participated in while studying in Ireland
"It's like there?s always a twist to make it more awesome." -Jordan S., fellow classmate.

You'll have an exam, that's open book.
You must complete a 10 page term paper about your feelings
Your assignment today is to go to two different towns and have coffee and we're buying.

School began this week, and I must have spent no more than four total hours in class after sleeping for nine hours each night. If you think I'm living the pampered life, you're wrong. I have to pour my own cereal in the morning.


Our first professor is Irish, and his name is Monty. He's about a foot and a half taller than I expected,  so  he was at least 6 feet tall. He asked us, What instruments do you play?? I told him I play piano, and sometimes I can sing so high it sounds like I'm screaming.
There's a girl in my class who's quite short. She puts her feet on a stack of books when she sits because she can?t touch the floor (and also fears varicose veins). I haven't found her gold yet, but I'll keep you updated.
I. played. football. with. some. Irish. lads. the. other. day. (I wanted you to read that last sentence slowly so the awesomeness could sink in.) There was one other girl who played, and thus we were chosen as captains. I papered her rock and the bidding began. I knew nothing of the players' skills so I had to judge based on looks. Should I go for the guy who looks like an American or the lad who has red hair and is named Cormac? 'Your name's Robert? And you don't go by Bob? Yeah, I'll take Cormac.' I actually held my own against them, though. Those three-year-olds can be such pushovers when you give 'em a wee shove.
On Saturday, we split into teams and embarked on a scavenger hunt in Dublin. Basically, it was just an excuse to talk to Irish people by asking them for directions. 'Where can I find -oh, I can't read this, it must be Gaelic? Mac-Dawn-ahlds??'
We almost missed the train on the way back. We darted in as the doors were closing. I am unsure if the doors will bounce open like an elevator's if there?s a human in its midst, but I didn't want to wait long enough to chance it. If I come back with one less arm (so just one), you'll know curiosity got the best of me.
Note: While AmeriSpan doesn't currently offer any programs in Ireland, we recommend AllStudyAbroad for anyone interested.