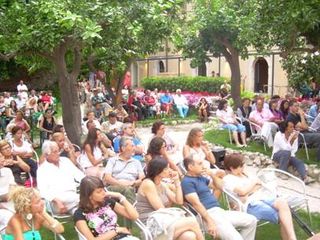 AmeriSpan's Taormina-Sicily Italian school is incredibly well-received by all students, and internationally recognized (It's is a fellow LTM Star winner!). We attribute this to the school's dual identity: it serves as both an Italian language school for foreigners and a "Cultural Workshop" for locals. They do an excellent job putting their school on the map, whether they're hosting book readings, art openings, wine tastings, or a slew of other cultural events.

Just this year, the Taormina-Sicily school is planning some of the following events and activities:
Book Presentation "Dalla Atlante agli Appeninia" & "œIl Falsario di Caltagirone"

,

meeting with the writer MARIA ATTANASIO
Book Presentation "Racconti del Parrucchierea" & "El Indecenza", meeting with the writer ELVIRA SEMINARA
Book Presentation with Claudio Fava for the presentation of his latest book (in the garden).
Organized trips to classical music performances, art museums, and more!
 Find out a little more about this school in the following video:
Learn more about our Taormina-Sicily Italian school