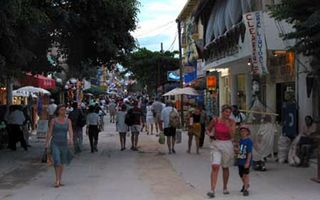 By Alisa W., guest blogger studying Spanish in Playa del Carmen, Mexico
 It has been very hot here in Playa for the past week.  It rained on and off nearly every day, and now I realize that the rain helped to keep it a little cooler, especially at night!  I'm counting down my last 4 days here in Playa.  The time has flown by, and I can't believe I've been here a month already!  I'm excited to get back to the comforts of home, but as I've said before, sad to leave such beautiful beaches.

There is a famous beach here in Playa that is known as Mamita's.  I can't tell you for sure, but my family, and many locals say this is where they famous people go, as well as the rich.  From what I've told the beach beds are quite expensive.  I am confused as to why this beach is recommended, and I'll tell you why.  Each day, my friends and I head down to Fusion beach (straight down from the school) and each get a bed for 25 pesos, and we share a bucket of 6 beers for 90 pesos.  If two of us share one bucket, that's only about 7 dollars for 3 beers and a bed for each of us.  The beach is beautiful.  The sand is powdery, and the water is turquoise.  It isn't packed with people, and it's easy enough to get food as well.  Now, after our day at the beach, I always walk down the beach on my way home, which means that I pass mamita's beach.  As I walk I near Mamitas, the beach becomes crowded, and after I pass the pier the water is full of seaweed, and the sand is no longer powdery.  There is also an awful smell that I encounter right after the pier as well.  So I don't understand why people would pay more money for things that aren't as nice merely for a name.  Now, understand that I haven't myself spent much time on Mamitas, other than to walk past it.  However, it does bring me to the conclusion that sometimes, when on vacation (or in any aspect of your life, really) it's sometimes good to put down the guidebook, and check out the different, less well-known options for yourself.

Find out more about AmeriSpan's Spanish school in Playa del Carmen
See all Mexico Spanish schools
Read all of Alisa's blogs from Playa del Carmen