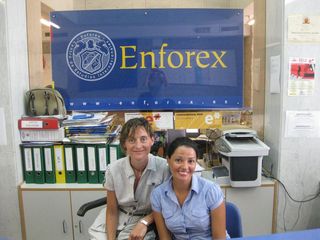 Meet Isabel Pardo Díaz, an Academic Coordinator at AmeriSpan's Alicante Spanish School in Alicante, Spain

What is your background?
Born on December 20, 1969 in Valladolid. Married since 2003. A daughter born in 2008. Resident in Alicante since 2004.
BA in English, University of Valladolid (Spain).
Master's Degree in Teaching Spanish Language, University of Alcala de Henares, Madrid, 1998-2000. Outstanding rating.
Speaker in conferences (ASEL) and international courses (Teacher Training Alcalingua).
Head of Studies Department of Spanish GALILEO (Spanish school for foreigners) in Alicante in March 2004 to June 2005.
Academic Coordinator of Alicante and ENFOCAMP ENFOREX Madrid and Marbella.
Member of the editorial team of the journal frequency L (2001-2004)
Author of various articles, reviews and specialized materials in Spanish as a Foreign Language PRISMA LEVELS A1, B1 and B2, A1 CLUB PRISMA, PRISMA Italy 1 and 2, PRISMA FUSION A1 + A2 and B1 + B2 all published by Editions Edinumen
Currently ENFOREX Academic Coordinator (Alicante) since 2005.
Do you travel abroad often?
Whenever I can!
 
Have you studied abroad?
I took an English course in Oxford, UK. 
 
Which languages do you speak or have studied?
I studied French in school, and Portuguese and English level A1 to level C2.
When did you start/join your organization?
Its founding year, 1989. 

What is your job or function at the organization?
Currently Alicante's Academic Coordinator!
What do you enjoy the most about your job?
Being part of a great team!

Was a person, group of people or organization instrumental in your success?
As for my personal success, my academic director José María Gelabert also was a professor in the Master of E / LE and director of research, as I recall.
Can you tell us about your school's philosophy, specialty and/or why you think it is special?
Enforex Alicante is located in a privileged location next to the promenade and the beach Postiguet in the historic center of town. The Mediterranean-style building, modern and spacious, seats 120 students. This gives it a unique identity. It is well connected by public transportation: buses and trams. It has a team of qualified teachers with specific training and experience in teaching Spanish as a foreign language.
Our students take intensive courses and follow a communicative approach, which allows them to communicate in Spanish from the first weeks. They also receive personalized attention from the team of professors and academic counseling by the coordinator.
Check out AmeriSpan's Alicante Spanish school