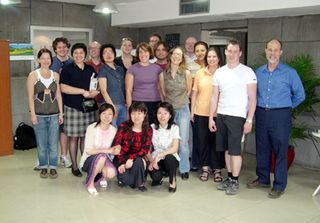 Meet Jerry Jia, Academic Director of AmeriSpan's Beijing Chinese school.

What is your background?
I am 25 years old, and I graduated from Beijing Foreign Studies University, currently I live in Beijing.

Do you travel abroad often?
Frankly, I have never been abroad before.
Have you studied abroad?
No, I have not.
Which languages do you speak or have studied?
I speak Chinese and English.
How and why did you get into the Study Abroad market?
I studied English as a major in the university, and now enjoy working in an language and culture exchange center.

When did you start/join your organization?
I started working for this school in 2007.
What is your job or function at the organization?
I am an Academic Director.
What do you enjoy the most about your job?
I have the opportunity to meet people from all over the world.
Was a person, group of people or organization instrumental in your success?
My boss, Julia gave me the opportunity to get to know this business, and I really appreciated it.
Tell us one of your biggest challenges in starting your organization.
I used to work as a teacher, then I got a chance to work in marketing and admission area, at beginning of that period, I was facing challenges and felt great pressure.
Tell us one of your biggest mistakes in your job, studying/teaching a language and/or traveling abroad.
When I worked as a teacher, I once had students from different language levels in the same class, and I sensed the inappropriateness, but I carried on teaching. I finally had to split them up!
Can you tell us about your school's philosophy, specialty and/or why you think it is special?
My school is not a language school- it's a culture exchange center, and also a big warm family. Every year, more and more students come from all over the world and join this family, and we care for each other- we help each other and we are hand in hand to create a better future.
Anything else you'd like to add?
China is growing and Beijing is growing, which provides more opportunities. If you are looking for success, please come to China – you won't regret your experience with us!
Find out more about AmeriSpan's Beijing Chinese school.