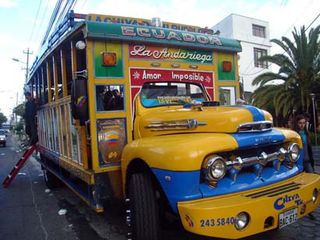 Meet Sofia Valdivieso, Student Coordinator of AmeriSpan's Quito Spanish school (Budget-Friendly)


What is your background?
I'm 32 years old, have a Commercial Engineering degree, and have been working at the school for 4 years. I live with my partner and we are expecting our first baby.
Do you travel abroad often?
I used to, I've been to Europe, USA, Peru, Argentina, Uruguay.

Have you studied abroad?
No.

Which languages do you speak or have studied?
Spanish is my mother tongue, then I speak English and am a French Intermediate.

When did you start/join your organization?
I started in 2006, then worked at our partner volunteer program organization, then came back to school almost 3 years ago.

What is your job or function at the organization?
I'm Student Coordinator. The main part of my job is receiving bookings from our Internet page and abroad organizations, organizing the pick-ups, homestays, Spanish program, etc. for each student and helping them with any questions they might have.

What do you enjoy the most about your job?

Being in contact with varied people from all around the world. There's so many interesting people out there!

Was a person, group of people or organization instrumental in your success?
Our manager, Ms. Luisa Cordova, has taught me everything to be successful in my position. I owe her a lot, she has always been nice to me and has always have the time to answer my questions, doubts, etc..

Tell us one of your biggest challenges in starting your organization.
Personalize our services to the needs of every student. There are so many different wishes, perspectives, expectations, that sometimes it's hard to make everyone happy! But we sure try.

Tell us one of your biggest mistakes in your job, studying/teaching a language and/or traveling abroad.
The biggest mistake at my job is when we have a lack of communication. For our activities to be successful we need to have every detail taken into account for every part involved. If there is a mistake, we can have a student lost in the airport, a family that hasn't been notified about a student's arrival, a teacher that hasn't been booked, an invoice with errors, so many things! Of course we are humans and sometimes this mistakes could still happen, but our goal is to have zero errors with every booking, which I can say is practically done. We love to bring the best service possible, and we do make some mistake we do everything that is in our hands to solve it.
Can you tell us about your school's philosophy, specialty and/or why you think it is special?
Every student is special to us and we are always looking out for their well-being. We are not machines, but humans, and we love to be in touch with every student and hear what their needs or problems are. Our staff is always open to help them. We are not too many people working one school, which makes a cozy office and makes a nice atmosphere for everyone.
Anything else you'd like to add? 
Well, from our experience I can tell you that individual lessons are definitely the best method. You can learn better and faster and have also many opportunities to share with other students/teachers during the coffee breaks, afternoon activities, weekend trips, etc… And if the student is a complete beginner, it's not a problem if the teacher doesn't speak English. I myself studied French from the very beginning and my teacher never used a word in other language to make me understand. Ecuador is the greatest place to travel! Starting in Quito, at the Middle of the World, you can travel in just a few hours to other beautiful cities in the Andes, the Rainforest, the Coast, the Jungle, and of course, the wonderful Galapagos Islands. Plan your time ahead, since I have many students that book several weeks at school for studying, but then they marvel at how many opportunities of traveling the have and prefer to continue traveling rather than studying!
Learn more about AmeriSpan's Budget-Friendly  Quito Spanish school