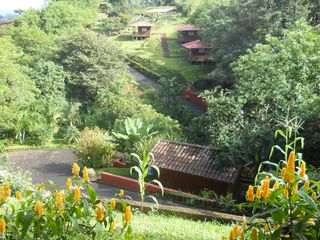 By Erin K., Teen Delegate Scholar and AmeriSpan Blogger studying at AmeriSpan's Alajuela Spanish school
¡Hola! My name is Erin K. and I'm 17. I'll be a senior in high school next year and am anxiously awaiting my graduation so I can go away to college to study International Relations.  I live in St. Croix Falls, a really really tiny town in northwestern Wisconsin. I've had the traveling bug ever since I was little, but I've never been out of the country before.  So, instead of waiting until college to make my debut as a world traveler, I made the decision to travel to Costa Rica this summer for three weeks to study Spanish.

So, here I am in Carrillos de Poas de Alajuela, Costa Rica. My Costa Rican host family, Rodolfo, Cinthya, and Valeria, live in a house in Carrillos Alto, the part of the town perched on a hill. There's another part of town at the bottom of the hill, Carrillos Bajo. I can hardly believe that I'm no longer in America. The flights from Chicago to Atlanta and Atlanta to Juan Santamaria International Airport seem like a dream.
When my host family picked me up at the airport, I was completely overwhelmed.  I hadn't properly prepared myself for the shock that is Costa Rica.  When you're coming from northern Wisconsin where snow piles up nearly 6 feet high, it's hard to prepare yourself for a country whose winter is about the same temperature as your summer. But it was love at first sight. I had never seen an actual mountain before I came to Costa Rica, and so it was hard to reign in my excitement as my family drove me through the craziness that is Costa Rican driving. There were mountains everywhere I looked!
This trip is the best decision I have ever made. I was scared at first since it was my first time traveling without my parents and my first time traveling outside the country. Not to mention, after nearly a month of summer vacation, my Spanish skills were not up to snuff.  But I feel completely welcome here, and the gorgeous views, friendly people and delicious food are totally worth the trip. I can already tell this is going to be an amazing experience.
Discover AmeriSpan's Alajuela Spanish school