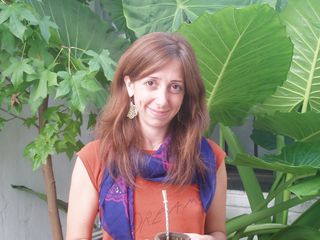 Meet Barbara Franconi, Head of Studies and Volunteer Coordinator at AmeriSpan's Buenos Aires Spanish school (Budget-Friendly)
What is your background?
I am thirty years old. During my childhood, I lived in southern Argentina have been living in Buenos Aires since I was a teenager. My family consists of my 3 brothers, an adorable nephew and my friends. 
Do you travel abroad often?
Yes, in recent years I have traveled to various countries in Europe and Latin America. I started to travel abroad in my teens when I traveled to the USA.

Have you ever studied abroad?
A few years ago I was an exchange student for 2 months to learn English in the USA. Last year, I took a specialized course in English in Lima, Peru. 
Which languages have you studied?
I speak native Spanish and English. In recent years, I've studied a little Portuguese, Italian and French, acquiring basic knowledge for chatting with students. 
How did you enter the study abroad industry?
I remember working in a library, Mayo Avenue in BA, and I noticed that they sold, among other texts, English textbooks. So I started to investigate the industry and learned that a relative of mine worked at a language institution beginning to develop their Spanish department. With him, I presented an English proposal and they decided to hire me. 
When was your organization started?
Our school opened in 2009; our partner school in Cusco, Peru opened in January of 1998.  
What is your job within the organization?
I'm the Head of Studies and Volunteer Coordinator 
What do you like best about your job?
That the whole time I'm facing new challenges brought about by learning and knowledge. 
What person or group of people have contributed to your success?
Everyone who has accompanied me at some point in my life. 
Tell us one of your biggest challenges in starting your organization?
Being a good team, maintaining a spirit of solidarity and thoughtfulness- both teaching and administrative, for excellent service and therefore an excellent product. 
Tell us one of his biggest mistakes teaching a language or traveling abroad?
At first I had to learn not to assume that whoever is in front of me has the same knowledge or worldviews I do. My experience has been demonstrating and teaching diversity, and there is always the possibility of complementing the different knowledge and perspectives. 

Can you tell us about your school's philosophy, specialty and / or why you. think is special?
Our school has two distinguishing features: firstly, the excellent pedagogical performance of teaching staff, interpreting the communicative approach to teaching ELE effectively for students who come in search of a linguistic and cultural immersion. They will not only be satisfied and see the results, but will also enjoy learning and learn to enjoy the new cultural context. On the other hand, our school is also like home. From its infrastructure, to the decor, the location in BA, to the team and the atmosphere we breathe, the school is a welcoming and comfortable place. 
Anything else you'd like to add?
Let us never forget that communication is vital, learning languages ??opens us up to the future and that to come in contact with different cultures is enriching at any stage of life.
See details about our Buenos Aires Spanish school (Budget-Friendly)