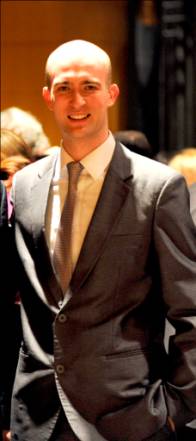 Meet Aaron Duff, Director of Development at AmeriSpan's Shanghai Chinese School


What is your background?
I'm a 29 year old Australian who has married into a Chinese family. I have lived in China on and off since 2003 in the city of Shanghai and a small town of 2 million on the north Korean border called Dandong. I also have 2 young children who have a much better Chinese accent than me.
 
Do you travel abroad often?
Not too often, but I travel around China a lot as there is so many different things to see, foods to try and cultures to experience.

Which languages do you speak or have studied?
I am a native English speaker, can speak fluent Mandarin Chinese and have previously learnt some Korean and French with varying degrees of success. I can also understand some of the local dialect of "Shanghainese".
When did you start/join your organization?
A little less than a year ago. I joined Mandarin House as it is the leader for what is a very fast growing and increasingly significant industry – Chinese language learning. It is a great opportunity to capitalize on growing demand for Chinese language worldwide and complements my passion to help more foreigners understand more about China.

What is your job or function at the organization?
Director of Development. This means a lot of things – everything from marketing to editing our self-developed curriculum. I often have to point out though that I don't do any Chinese teaching. Compared to our teachers I am way too under-qualified.


What do you enjoy the most about your job?
I like talking in Chinese with other foreigners from all over the world.
Can you tell us about your school's philosophy, specialty and/or why you think it is special?
Our school is special not just because we are a pioneer of the Chinese language school industry but because of our emphasis on quality. We are the only school with international accreditation from IALC (International Association of Language Centres) and we have won and been nominated for a number of international language awards.
Further, our schools in Beijing and Shanghai are in the hearts of the city with modern, comfortable classrooms and facilities. Moreover, aside from our business Chinese and HSK programs, our self-developed curriculum is unique in that it focuses in 'living Chinese' with a choice of learning Chinese characters or not. Ultimately a major factor that sets us apart is the quality of our teachers. Our 100 or so teachers are all qualified to teach Chinese to Speakers of Other Languages and have a cumulative average of over 3,000 hours of teaching Chinese to foreigners.
Anything else you'd like to add?
If you have never been to China before, no amount of documentaries or travel guides can fully prepare you. The country has developed so fast and changes so quickly that it will amaze you. China is a great country and due to its difference from other countries around the world, in my experience people can either love it or hate it. To love it, approach the country with an open mind and be ready for anything.
Discover AmeriSpan's Shanghai Chinese School