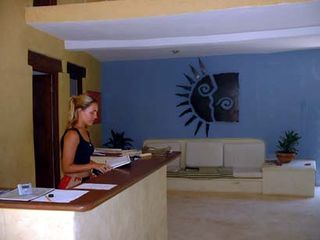 Meet Katherine Neumann, Reservations, Information and Front Desk at AmeriSpan's Playa del Carmen Spanish school
What is your background?
I am a 29 year old Canadian who has been living in Mexico on and off for 10 years (as a permanent Resident for the past 6 years). I have a BA in Spanish. 
Do you travel often?
As often as I can! I love nothing more than visiting somewhere new.

Have you studied abroad?
I did a study abroad program in Mexico when I was 18 and it completely changed my life. What was originally meant to be a 5 week Spanish Program in Mexico has turned into a decade and counting…..
What foreign languages do you speak?
I studied French in Canada and am fluent in Spanish.
How did you get involved in Study Abroad?
My study abroad experience had a huge impact on me and my life. I learned so much from the host family I lived with and am still in touch with them today. I wanted to help other students have the same experience I did in Mexico.
When did you start working at the school?

December 2009
What is your job at the organization?
Reservations, Information and Front Desk. I am here to answer any questions that the agencies/ students may have, both during the planning process and during their time in Playa del Carmen.
What do you enjoy most about your job?
I truly enjoy meeting the students from all over the world and seeing them fall in love with this country. It is always sad to say goodbye to students at the end of their stay, but incredible to hear how their study abroad has changed their life- especially when they tell me in Spanish!

What person or group of people have contributed to your success?
I love that our school is a big extended family and every student feels part of that here.
Tell us one of your biggest challenges in starting your organization?
When I first arrived in Mexico, I definitely experienced a bit of culture shock and was so nervous about being in a foreign country and not being able to speak the language whatsoever. The first day I called home crying wondering if I was really as brave as I thought I was. I thought about cutting my trip short but  decided to stick it out and see what happened. By day 3 I had made lots of friends at school, by the end of week 1 I was able to answer questions in Spanish and find my way around the City on my own and by week 4 I was loving all the delicious Mexican food and couldn´t seem to eat without Chile y limón. On my last day I called home crying again but this time because I didn´t want to leave.

Anything else you'd like to add?
If you are unsure about traveling to Mexico, please feel free to ask as many questions as you have. AmeriSpan can relate to the questions/concerns that students and their families may have and we are always happy to help.
See more about the  Playa del Carmen Spanish school