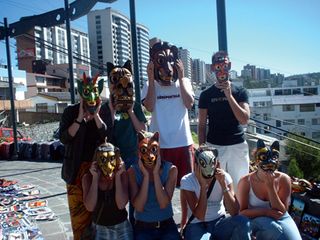 Join Garrett F. on his Ecuadorian quest with the Quito Junior Immersion program
Today is Friday and I have finished my first school week in Quito. Let me walk you through what the day is like for me here:
I wake up at 7:30 am and have breakfast courtesy of my host family. Breakfast isn't always the same but it usually consists of fruit, toast and tea. Then at 8, my two friends and I walk to school. We can take the bus, which costs 25 cents, but our school is only a 15 minute walk away. On the way to school, I usually buy a water, which only costs 35 cents! School starts at 8:30 and for the first two hours of class, my teacher will usually go over vocabulary, verbs or other Spanish grammar. At 10:30, we have a half an hour break, during which I usually grab a pastry or some kind of snack from the school food stand. Then, for the second two hours of school, we do activities to practice what we learned earlier.

At 1 o´clock I have lunch with the rest of the teen program, along with Maria Paz and Jose Antonio, our program leaders. The lunch, which is made by the school's chef, is always something different yet wonderful tasting. We usually get a tasty little desert as well! After lunch, we do our program activity for the day. So far we've done things like volunteer at a children's day care and take Salsa lessons. All of the activities have been fun, and I've also learned a lot about the city and its culture through them.
After we're done, we usually go back to our host families' houses, where we have dinner at 7 pm. Dinner is always delicious and enjoyable as we eat with the family. After dinner, we finish off the day watching a movie or playing cards. This week has been great and I'm looking forward to the trip to the cloud forest this weekend!
Hasta Luego,
Garrett
See all of Garrett F.'s blogs from Quito
Find out more about AmeriSpan's Quito Junior Immersion