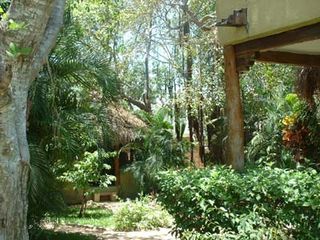 By Alisa W., guest blogger studying at AmeriSpan's Playa del Carmen Spanish school
I returned home yesterday from Playa del Carmen.  I took a bus to the Cancun airport.  The ticket for the bus is only 106 pesos, so it is very affordable and easy to take a bus, which is air-conditioned.  I found myself getting sad as the bus was driving through town to the highway, I passed many places that my friends and I would often visit or go eat.  My experience here has been so amazing.  I don't think I would have changed anything, even a couple undesirable experiences gave me a better perspective on life in Mexico. 

I think the thing that overall, I was most shocked about, is how much poverty exists in Mexico.  I had never really considered it, but you see many tiny little homes that I couldn't even imagine living in.  Houses with tar roofs and aluminum panel siding, and little concrete homes with only one room.  I was fortunate that my family seems to be comfortable enough, and my room was quite nice.  The second thing that I was surprised about was how nice, patient, and friendly the Mexican people are.  Even when you are making things more difficult for them, they don't get upset with you, they just do their best to try to help you.  I think many of us could stand to learn a few things from the generosity of these people.
I am glad to be back in the United States, and my first night sleeping in air-conditioning was better than I had imagined.  However, I miss Mexico, and found myself thinking about what I would likely be doing if I were still in Mexico, or what my Mexican family and friends were doing as I though about them throughout the day.  This having been my second experience studying abroad, I am 110% convinced that living in a culture that is not your own for at least a month is probably, in my opinion, one of the best things you can do to help yourself grow.  I don't mean taking a vacation, and staying in a 5-star hotel, I mean really experiencing the culture of the country you are visiting.  Stay with a family, talk with the locals, get your feet dirty, keep an open-mind, and know that even when you feel uncomfortable, you will come out of the experience a with a better perspective on everything the world has to offer.
Find out more about AmeriSpan's Playa del Carmen Spanish school
See all Mexico Spanish schools
Read all of Alisa's blogs from Playa del Carmen