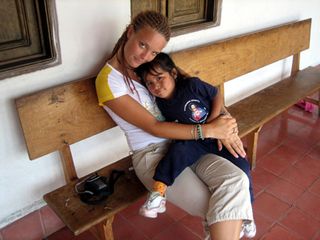 By Sarina R., guest blogger volunteering in Guatemala
A new routine began this week that I am enjoying immensely. Sure, there are plenty of awesome bars, cafes and coffee shops in Antigua to occupy the out of class hours. But after two weeks of cafe-hopping, I was starting to get the itch for a busier schedule.

Here in Antigua, and across Guatemela, it seems like everyone is a volunteer. There are literally thousands of organizations doing a variety of work in the community — everything from providing expertise at hospitals or homeless shelters, to assisting teachers at schools, or tackling environmental issues such as deforestation. For those interested in basing themselves in Antigua for at least a few weeks, quality volunteer opportunities are extremely easy to come by. Schools can set up your volunteer work as well, but I opted for the friend-of-a-friend route, instead.
While I was in Monterrico, I met a woman liaising with an organization called Nuestros Ahijados — a group based in the states that coordinates several projects (as they are called here) in Guatemala. Since I am interested in working on criminal justice issues back home, I was extremely excited to hook up with this group, as they run a school intended for kids at risk of becoming involved with gangs. I went last week to check out the school, called Centro Scheel, and began volunteer work this Tuesday.
For now, Im assisting the social worker at the school. He runs afternoon programming for the parents of the students, and other various after school classes focusing on life skills for the kids and the community. He also accompanies special need students to their appointments with doctors and specialists.
Im sure that Ill have more on this in the upcoming posts, but I can say off the bat that I am so, so glad that I started volunteering this week. Not only has it been good for the bank account (lets be honest, coffee and beer arent free!), but I can already see the vast improvement in my speaking when I am forced to use Spanish in the afternoon. And, perhaps most importantly, Im gaining exposure to a side of Gautemala tough to find in the center of Antigua. I met a girl today who couldnt attend school this week because she had neither clean clothes, nor the requisite 2 quetzales (25 cents or so), of bus fair. Living so close to families facing issues like this is a reminder of why Im learning this skill in the first place, and what I hope to do with it in the future.
Final word…spend some time volunteering during your stay in Antigua.
Read all of Sarina's blogs from Antigua
Find out more about AmeriSpan's Antigua Spanish school