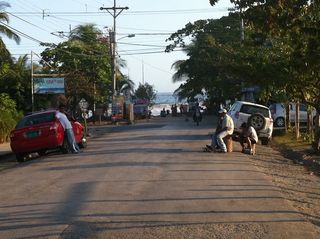 By AmeriSpanista Julie, who just returned from a long-anticipated trip here.
Sámara Beach, or "Playa Sámara", is a small beach town in South Guanacaste, Costa Rica that has lots to offer the student craving Costa Rica study abroad. While it is not a "resort town" by any means, the town offers plenty of opportunities to explore and practice Spanish, not to mention restaurants/"sodas", shops, nightlife and even a couple homespun galleries and animal refuges.

1. Don't be an "Ugly American"!
Costa Rican people, or "Ticos", are famously friendly and open people. Keep in mind that you are visiting their home, and that amenities are more modest here compared to American standards. Costa Rica tends to be pretty clean and laid back, in fact its motto is "Pura vida!" or, loosely translated, "Live life to the fullest!". Relax, be patient, be environmentally conscious and enjoy your surroundings.
2. Be open to new experiences!
Perhaps at home you wouldn't normally go on a hike or kayak trip. But Samara (and Costa Rica in general) is abundant in unique wildlife and plantlife, and there are so many mesmerizing views to be seen and once in a life time opportunities to be had – take advantage of them. Shutterbugs, snorkelers, animal lovers, beach bums and rainforest adventurers alike will find something fun to do, so look around and see what's going on! The school staff is happy to suggest things to do and even organizes some excursions (in addition to regular dance and cooking classes!).
3. Travel healthfully
Because of its proximity to the equator, Costa Rica packs a powerful punch when it comes to being in the sun. There are plenty of covered areas and shade from palm trees at the school and on the beach, but for those times relaxing or exploring in the sun it's best to stay hydrated and wear plenty of sunscreen. Also, some people choose to receive shots, so consult your doctor or the CDC before your trip.
4. Find new ways to practice your Spanish
You will learn plenty of new vocabulary and get tons of practice at school and with your homestay family, but don't feel limited to those locations! Though many people do speak English around town, many do not, and even those who do might prefer Spanish anyway. Be brave and ask for a drink at a bar, or visit the "farmacia" if you need a band-aid or sunscreen.
Check out Samara Spanish schools
See my other posts about Samara