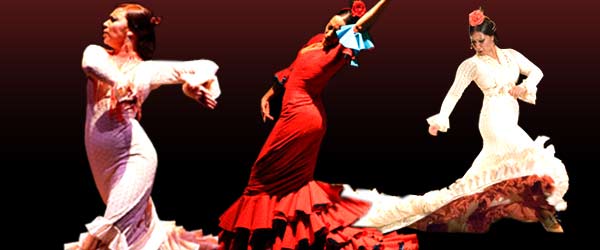 Yesterday I went to a concert of the "Original Flamenco Festival 2012″ which is taking place from August 6 until September 2 at the Compac Theatre in the Gran Vía of Madrid which also happens to be celebrating its 70th anniversary. More than 50 artists are participating in the festival which is not only offering concerts but also courses, exhibitions and wine tasting sessions. I was quite impressed by the passion and grace of the dancers, the so-called "bailaoras" and "bailaores", as well as the emotion and talent with which the vocalist chanted the songs.
Flamenco is a typical Spanish music and dance style which originally comes from 18th century Andalucía. The singing, dancing and the guitar constitute the main elements of Flamenco. There are four main styles of Flamenco: Fandango, Soleá, Seguiriya and Tango. The Fandango is a dance in pairs often with castanets and lively, passionate movements. The Soleá is danced by a single female dancer with great expression. She dances slow and difficult movements with her arms and body all accompanied by tap dancing. The Seguiriya is a solemn and melancholic style which is also demonstrated in the dance. The movements are similar to the ones of the Soleá but are generally even heavier. Lastly, the Tango, which should not be confused with the Tango Argentino, is danced in couples and is characterized by many hip rolls, flowing arms and hand gestures.
Madrid is the ideal place to learn Flamenco. The city is a stronghold of this passionate and romantic dance and offers many opportunities to perform, listen, or watch Flamenco. Why not combine an intensive Spanish course with Flamenco classes at one of our language schools in Madrid? This is the best way to dive into the Spanish culture and to experience what it is all about to live and study in Spain. The dance is not only a good medium to get to know the culture as well as equal-minded people, but also a very good form of exercise and fantastic way to have fun at the same time. The flamenco course is adapted to your Spanish course schedule and consists of several hours a week in order to teach you this fantastic dance during your time on the Spanish immersion program.
Grab your dancing shoes! Madrid is waiting for you!