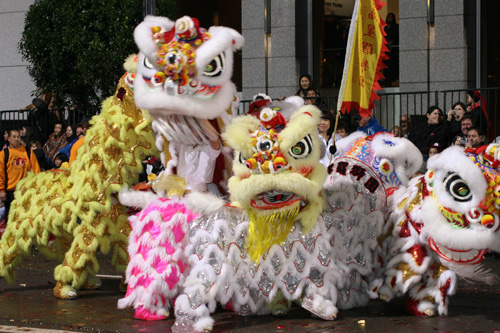 Yesterday was the first day of the Chinese New Year, marking the Year of the Dog. The Chinese New Year begins on the second New Moon after the winter solstice and ends on the full moon fifteen days later. The Chinese calendar has been in continuous use for centuries, predating the International Calendar we use, which goes back only about 425 years. On the Chinese calendar, it is the Year 4703…pretty cool, huh?
The system of naming years after animals is extremely practical when you think about it. The animal system of the Chinese calendar rotates every twelve years. Knowing how old you are based on the Chinese calendar makes it really easy to remember how old you are, which is helpful for anyone; people born during the Year of the Dog are now either 0, 12, 24, 36, 48, 60 years old…and so on…
Chinese New Year celebrations include spectacular parades (the photo above shows the parade held in San Francisco) and fireworks, which are shot off at the stroke of midnight on New Year's Eve to send out the old year and welcome the new one.
Here are some links for more information about Chinese New Year:
SouthWest Airlines Chinese New Year Parade
University of Victoria Faculty Page
A great site for kids