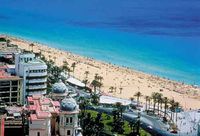 Why would you go to a place that might entice you to stay forever? The people are far too generous and they have too much fun. Who wants the freedom to sit on the beach with a glass of sangria, to eat tapas after 10pm or make the last meal of the night breakfast? What about taking a siesta could possibly call you?
Affordable luxury is way overrated. It's simply too easy to travel from one metropolitan city to another in two hours on a world-class train. In one city one may overeat the finest ham, see three cathedrals and the world's oldest university in one afternoon. Who needs it? Taking a relaxing drive along la Costa del Sol would just be entirely too beautiful.
There is also simply too much to do! Examples such as Sagrada Familia, la Alhambra and la Plaza Mayor mean that your day will be packed with meaningful activities. Spain is only one of the most culturally rich destinations in the world, so you may risk learning or feeling something you never imagined was possible. Don't go to Spain, because you might fall in love. No joke, this has been known to happen!
Not convinced? Ok, ok, AmeriSpan happens to have study abroad programs in 15 different cities throughout Spain! Interested? Click to learn more about AmeriSpan's Spanish programs in Spain.