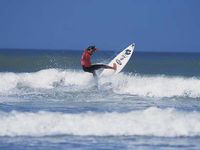 AmeriSpan is pleased to announce updates to our French Language & Fun and Professional Development programs. For those interested in learning to surf the waves on the incredible beaches of Biarritz, while learning French, check out our French & Surfing in Biarritz, France program. Biarritz is home to many top surfing competitions, such as the annual Biarritz Surf Festival. Open to all French and surfing levels, participants receive an hour and a half of daily (M-F) surf instruction from Pol Plantec, a highly skilled surfer who started the HASTEA Surf School. These lessons are tailored to your individual needs and skill level.
French for Diplomatic Relations, located in Bordeaux, France, is designed for ambassadors, diplomats, international organizers, government agents, and political science students. Participants receive both group and private French lessons. The private French lessons focus on vocabulary development, more formal terminology, observation of diplomatic communications, formal speeches, and the examination of professional documents. Each participant's private lessons are tailored to their individual needs.
Of course, our standard French immersion programs are available in both Biarritz and Bordeaux, as well as 6 other cities in France.
French & Surfing in Biarritz France
French for Diplomatic Relations in Bordeaux France