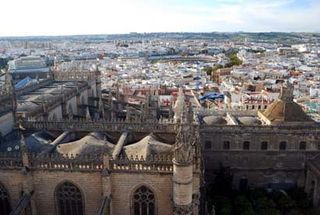 This past year, we here at AmeriSpan were thrilled to add several College Study Abroad programs to our repertoire. We know that Spain is and has always been an ideal destination for students studying Spanish and racking up college credit abroad, and we've delivered! Today we'd like to highlight one of our newest programs, our Spanish Semester Abroad in Granada, Spain at our international campus!
Known for its cultural events, breathtaking cultural attractions (such as the majestic Alhambra), and its place as an up and coming modern Spanish city, Granada provides a fitting and inspiring background to your collegiate Spanish course studies. It's only a couple of hours away from Madrid by car or us, and even closer to a plethora of gorgeous beaches and other lovely destinations.
Our school is even more enticing; Complete with a great view and balconies, multimedia room, an international student body, and recreation area, our Granada campus stands at the foot of the Sierra Nevada mountains and just 45 minutes from the Mediterranean Ocean.
Set up through the University of Southern Mississippi, your coursework will include thirteen weeks of customizable classes in English and Spanish, excursions including a 10-day intersession art course in Madrid, and various cultural activities. This program is ideal for a student wishing to save money on college tuition who wants a great college semester while discovering Spain!
See AmeriSpan Semester Abroad in Granada
See All AmeriSpan College Study Abroad Programs