By Miki S., guest blogger, Cusco SALUD participant and AmeriSpan Delegate Scholar.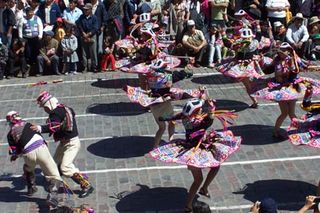 It's been one week since I've arrived in Peru but I have honestly
done so much already….
The Sunday of my arrival, my family took me to the Plaza de Armas
(the heart of Cusco) where we saw a mini-festival, rather a competition,
between local schools.  It featured
different types of traditional Inca dancing and live music, filled with bright
colors and the twirling of skirts, and the yells of the boys.  Apparently every Sunday there is an organized
parade to accompany the raising of the Peru and Cusco flags, and these can
range from mini contests to celebrations of anniversaries of local
schools. 

Cusco has also worked out a great system to help tourists see the
city and its surroundings.  With the
purchase of a Cusco Tourist Ticket, access is given to 15 sites.  They include must-see places like Moray,
Saqsayhuaman, and Tip'n, which revolve strongly around the Inca culture.  What's also great is that each tour will
often visit up to three places, so it's easier to navigate around the city.  And all of the tour guides speak English, so
after an explanation in Spanish they're happy to translate their whole speech
and answer more questions.  The ticket
is valid for ten days and costs $47 for adults but $25 for students (so bring
your student ID!) 
Since it was Peru's Independence day this past
Wednesday (July 28th celebrating 189 years) I have had Thursday and
Friday off, so this four day weekend has been dedicated to visiting as many
sites as possible.  They are all
breath-taking in their own way; I highly, highly recommend it! 

Click for more information on AmeriSpan's SALUD Program in Cusco, Peru
Click to see AmeriSpan's Spanish School in Cusco, Peru
Read all of Miko's blogs from Cusco, Peru