By Jonathon L., guest blogger studying Spanish and skiing in Santiago, Chile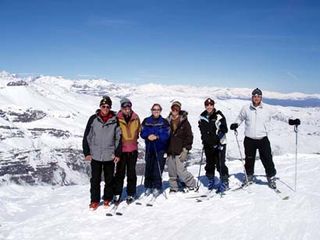 After watching Germany secure third place in the World Cup, I boarded my plane for Dallas, where I spent a whopping 40 minutes before heading off to Santiago, Chile.  When my plane landed in Chile, I was befuddled as I made my way through customs, trying really hard to only speak Spanish.  But the bus company that I had made reservations with apparently spelled my name incorrectly, and my program made it very clear that I should not go with anybody who might be "just pretending" to work for the transportation company.

But after a shared ride van through the city, we pulled into a small urban-ish community that would be my home for the next 4 weeks.  As I tried to open the gate to see if I was at the right place, my Chilean "Mama" came out and greeted me with a hug and a kiss on the cheek.  As I entered my nuevo casa, speaking only in Spanish, I was introduced to one of the other students who is staying at this lovely house, and as I went in for the American hand shake, I was greeted with the Chilean kiss on the cheek.  The culture shock has been very positive so far (after an initial overwhelming feeling en el aeropuerto.
As I am hoping to only speak spanish for the next four weeks, my blogs (and brain) may start to incorporate more and more Espanol and my English may start to sound like my students', where they were translating their SPANISH thoughts into ENGLISH words.
So, all is well in Chile so far. Apparently there is a solar eclipse at four, but we have a solid cloud cover (and smog to make me less homesick for LA) to keep that event from bringing too much visual stimulation into my life.  BUT in an hour it will be WORLD CUP time, y yo voy a ver el partido de fútbol con mi familia Chilena.
Find out more about Spanish and Skiing in Santiago
See Spanish school in Santiago
Read all of Jonathon's blogs from Santiago