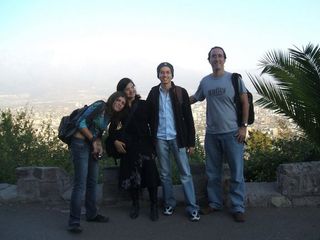 By Jonathon L., guest blogger studying Spanish and skiing in Santiago, Chile
On my first day of school, I took a test to determine which Spanish class was appropriate for me. After the test, I played table football (foosball) when I was waiting for test results. Moments later, the secretary told me to go to room fourteen. I arrived a little later to class than the other students, but we introduced ourselves to the whole class and the teacher began a short lecture of the past perfecto (I think). An hour later, we had a short break and returned to read an article about the Mapuche (indigenous people) in South America. And in the last hour, we had an oral test to determine our personalities. The teacher asked us what we would order in a bar, what we would wear when sleeping, what is our most favorite type of film, and where we preferred to go for a vacation. My result was that I like things simple and I'm content.
After school, we had a free school lunch, then two Americans (one from New York and one from Texas) and I walked to the Providencia region to search for clothes that were warmer (because it is winter in Chile!). While we did not buy much, we had fun walking the streets of Chile. The Providence is a very urban area and shops are more expensive than I would prefer(and not made in the U.S.). Then we walked to our homes. I lived further from the other pupils.
During our adventure, we talked in Spanish a lot. Some times they tried to have conversations in English, but I liked to speak Spanish only. Because when I was thinking in Spanish, it was a bit difficult for my head to change back to English. Tomorrow, I do touristy things in Santiago, and if possible, travel with students from other countries, like Brazil or Switzerland. All in all, it was a good day. While my family is very nice, I dont have many friends yet (its the first day, but I have many aquaintences) to explore with me).
Find out more about Spanish and Skiing in Santiago
See Spanish school in Santiago
Read all of Jonathon's blogs from Santiago