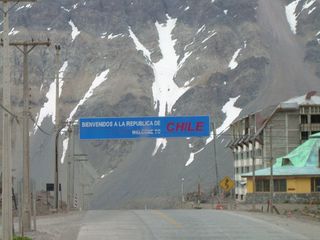 By Jonathon L., guest blogger studying Spanish and skiing in Santiago, Chile
WHAT A TRIP IT WAS!!! 
So the day started with me waking up at about 6:40 in the morning to my Chilean Mama with my breakfast ready to go, and tea!!! I dragged my bag (with wheels) the 30 minutes to my school to meet the drivers who would drive me and one other student (Tim, from Texas) to the mountain, El Colorado.

However, in the vicinity of El Colorado, there are 3 other mountains, and there was a bit of confusion about which one we were going to (I still want to go to Valle Nevada, but that is for another day, and a little bit today, read more and find out!!!). But while Tim was renting his skis, I sorted out the destination business, by standing around and waiting for the people in charge (which were the drivers, no one from the school comes except the students, and there were only 2 of us this time).  But after Tim rented his skis, they loaded tons of people into the vans to take us to our various destinations.
We spent the morning exploring el Colorado, and it was fun.  We kept away from the park because it was early in my season (DAY 1), and the park wasn't for Tim.  But after a while, we were running out of runs.  So we stopped for a quick lunch, (a snickers bar and an oatmeal raisin cookie) and then I said I wanted to go check out the park. 
As we looked longingly at the small terrain park on the left side of the mountain, Tim noticed some runs (another backside?) just a few meters past the park.  So, we decided to check these out before tearing up some terrain.
In true "Go big or go home" sprit, we put the pedal to the metal as we traversed left along the mountain.  A little too far left, and as we sidewinded away from El Colorado. We eventually arrived at the next closest lift, Which was a completely different resort- "LA PARVA".
It took some time to negotiate our way into getting back up the mountain, but eventually the manager gave in and let us PURCHASE some lift tickets (because our El Colorado lift tickets were no good here).  But this sarcasm (and about $60 total) aside, Tim and I were on our way back up the hill.  The alternative was to walk about 40 minutes through the streets back to the parking lot of El Colorado.  Oops!
The important thing is that we made it back to the van, ready for a nap, 1 minute before it was time to leave!
Find out more about Spanish and Skiing in Santiago
See Spanish school in Santiago
Read all of Jonathon's blogs from Santiago