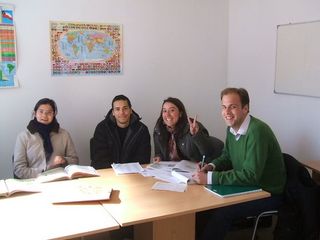 By Jonathon L., guest blogger studying Spanish and skiing in Santiago, Chile
Sample Day of class, and despite not sleeping much the night before, and the mild 'terremoto' in my head, it was a pretty awesome lesson overall.
First Hour: 9ish-10:30ish:  Class starts with the profesor (profe for short) asking us what we did last night, (Que cuentas?) and yesterday afternoon?  Who went out, who is tired now, did you go anywhere special, do anything touristy and so on…but all in Spanish.  We then went over our homework in pairs; reading through each other's plans for the upcoming year and then sharing what we learned about our partner with the class.

The second half of the first block involved another partner activity, where the professor handed out 3 pictures; one of nixon, one of a woman with her head against a wall (the Berlin wall to be specific), and one of the Beatles practicing.  He also gave us about 20 strips on paper with words on them.  We had to sort through the strips and organize them, so that we would have the 3 paragraphs that go with the 3 pictures.  This gave us a chance to interact with the spanish, learn new vocabulary, and also refresh the present continuous.  After this is was pretty much time for recess.
Recess involves hanging out in the central room, drinking tea or coffee and snacking on sandwhiches (bread with butter or when we are lucky bread with dulce de leche).
After enough time to relax and socialize with our friends, we returned to our class (which has about 7 people and one teacher (profé)
2nd Hour: 11ish-11:50ish: This is always the hardest hour, the newness of the day is over, the excitement of the start of class has dwelled, and that sandwhich just wasn't enough food to hold you over for the next two hours, so I sit staring at my tea (in part for nurture in part for warmth) as the prof starts to go over the next activity…which was just what I needed to get out of the second hour funk: Charades.  We were each given a strip of paper that had a sentence along the lines of "I was doing X until Y happened.  As each person acted out their sentence, we had to guess what they had, while conjugating our verbage appropriately in the preterite and imperfect continous tenses.  My sentences was "I was shopping in the supermarket, until I ran into my Spanish Teacher."  —Not to hard to act out.
Then we separated into to groups, the police and the suspects, and we did an activity where the suspects had about 10 minutes to collaborate on a their alibi for the previous night, and then the police interview them one by one to see if everyone has the same story.  As the police collaborated, the suspects realized they had won, in that all of us were able to remember our alibi (of going to the park, then taking the metro to school, then doing homework at school, then going for Pizza in the town, followed by a movie 'Superman') and as a result EVERYBODY WINS!!!! 
Time for recess number 2…only 10 minutes or so, but just enough to stretch and ask Philipe (the social events coordinator) what the event was for tonight (terrimotos so I passed…because I had gone out for them the previous night and had big plans for the next day), and where I would be going snowboarding the next day.
12ish-1ish marks the 3rd hour where we practiced vocabulary regarding the home and the things we find in there.  We then had to use this vocabulary to describe our own home (in Chile) and rank it on categories of Location, Facilities, Decoration, Price, and Hospitality and use the accurate vocabulary to defend our rankings as we shared in pairs.  This, mixed with some worksheets to help us learn the vocabulary took up the entire third hour (which always goes by faster than the second…even though I am pretty sure the second is shorter) and we were left with our tarea – to write one paragraph describing our homes.
Then the prof dismissed us and we dispersed into the streets of Santiago and I went back home early to spend some time with my Chilean family (we went to the market and watched movies, and I napped A LOT) and had an excellent dinner before packing up for snowboarding the next day!
Find out more about Spanish and Skiing in Santiago
See Spanish school in Santiago
Read all of Jonathon's blogs from Santiago