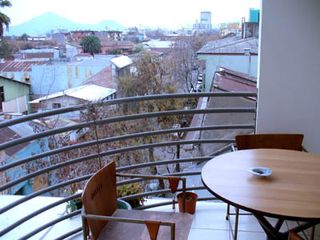 By Jonathon L., guest blogger studying Spanish and skiing in Santiago, Chile
So, since my first trip since I got lost-ish at El Colorado, I have returned to El Colorado, and visited Valley Nevado twice.  The snow dumped and poured for the first two trips, and I had the opportunity to shred through some awesome powpow ("Nieve Virgen", or fresh snow) as we were among the only people on the mountain for these two, low visibility, high-awesomeness days.

The reason there wasn't anyone on the mountains is that the one windy road that takes us from Santiago to the slopes is pretty much worthless when the weather is sub par. People (busses) don't put on their chains, and then they spin out and block traffic, and the one hour trip suddenly becomes a 5 hour trip as we navigate the 40+ hairpin turns to take us to the mountain.  But luckily, every time that I have been stuck on a long car ride to the snow, I have been able to catch up on some much needed sleep!  Two days ago, on my most recent trip to Valle Nevado, all the powder from the weekend before was gone, but despite only having groomers and hardpack snow, the sunshine and lack of clouds offered me the Bluebird day at Valle Nevado that I needed so that in one day I could hit EVERY lift (and pretty much every run) on the mountain!
Find out more about Spanish and Skiing in Santiago
See Spanish school in Santiago
Read all of Jonathon's blogs from Santiago