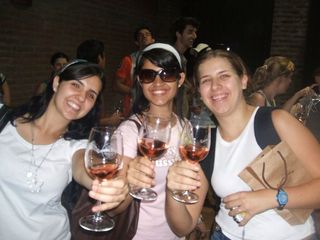 By Jonathon L., guest blogger studying Spanish and skiing in Santiago, Chile
So, I guess consistency is a virtue, but wherever I go I always end up living with all girls.  Of the four students staying at my lovely house, I am the only male (the bloodchild of my chilean parents, however, is male as well as his father so there is some testosterone present in the household…unlike my Los Angeles homes…but that is a story for another time!).

Last night, after a 5 hour trip home from a whiteout powder day in El Colorado, I raced back home for an amazing dinner with my EXTENDED Chilean family.  Both of the other gringo students' families were in town so my Chilean parents invited them over for a feast of feasts!  Basically, any type of meat that they sell in Chile was thrown into a giant pot, with some vegetables and oils and water and turned into a magnificently hearty Chilean stew….which if you know what it is called please comment it below….but basically it had carne, pollo, mariscos, papas and more; all thrown together in and boiled with love (and heat) to make an amazing meal.  This, plus the company, plus the red wine, white wine, and pisco after a full day of snowboarding 'powpow' (powdery snow) with gringos was just what the doctor ordered!  AND I was able to get the dozens of pictures that were taken of my chilean family so that I could post the good ones on Facebook!
Find out more about Spanish and Skiing in Santiago
See Spanish school in Santiago
Read all of Jonathon's blogs from Santiago