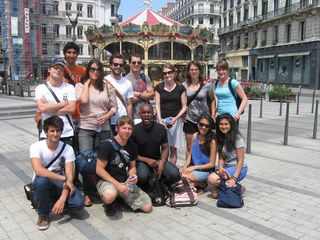 By Ashley C., guest blogger studying French in Lyon, France
June 2010:
So hot. I was too hot for my shirt (literally). I?ve barely experienced weather this hot before. I wore nothing (basically). I bought a couple cheap H&M dresses because my jean shorts were too hot. I bought a paper fan to carry around with me, and I drank enough water to fill an ocean (or so it seemed). I didn?t realize it would be so hot, so I didn?t pack appropriately. Bring the coolest clothes you have, or just plan to spend a bit of

money (clothes are cheap here) when you arrive. I also went to Avignon one weekend, and experienced the most horridly hot weather ever. It was an oven. I can?t even think about it.
August 2010:
Much better. Finally wearing a sweater sometimes makes sense!
Style (and what not to wear):
Girls: Dress up! Bring your dresses and your skirts and everything you?ve always wanted to wear every day, but couldn?t due to USA fashions that dictate that dresses are for fancy occasions. In France, you can wear a really fancy dress around the town! Awesome! Strappy sandals are also really popular here. Bring your own, or buy some here. Nearly everything is cheap when you buy it on sale, so this is really a shopping girl?s heaven.
A few don?ts: Don?t bring shorts and expect other people to be wearing them. If you like to be in fashion, just leave your shorts and your athletic sneakers at home. If you don?t care about fashion, sure, no don?ts for you! Work those sneakers and see if you can start a fashion trend!
Boys: You can wear whatever you want! Guys run around wearing short, white shorts here! I see striped jackets and sweatshirts (something I?d never see in the states). I see lots of pink and colorful shirts on men. It?s inspiring! Men?s fashion is so dull in the states, but it?s much more free here. There are no don?ts, except to leave the gel out of your hair (oh wait, that?s just something I personally prefer…).
Click for more information on AmeriSpan's French school in Lyon, France
Click to see all of AmeriSpan's French schools in France
Read all of Ashley's blogs from Lyon France